Muitos descontos chegam fazendo barulho a Playstation Network nesta semana! [PS3/PSP]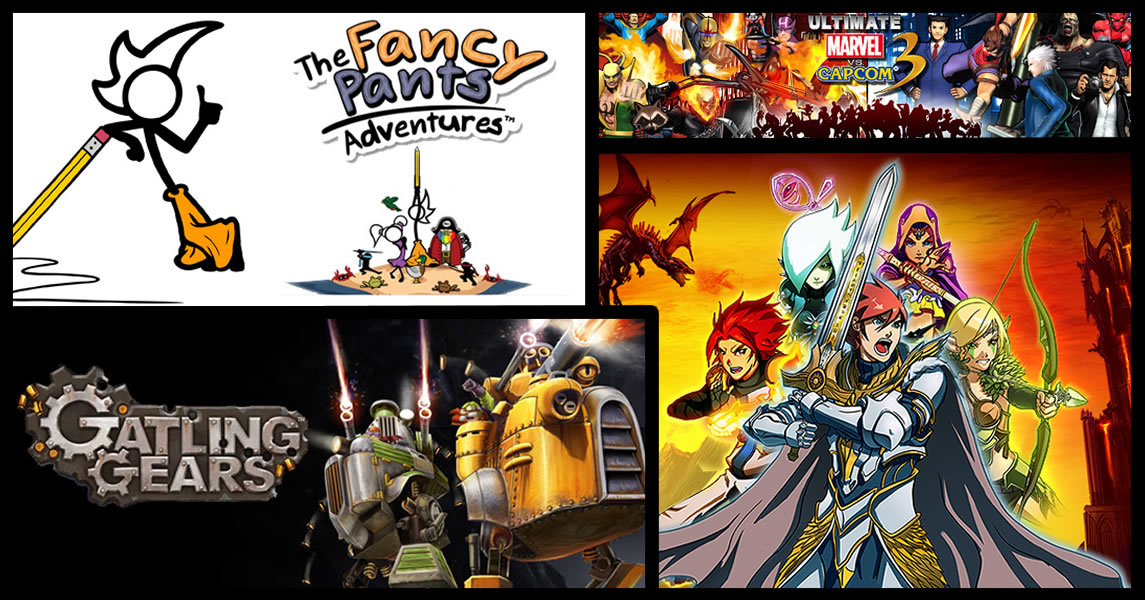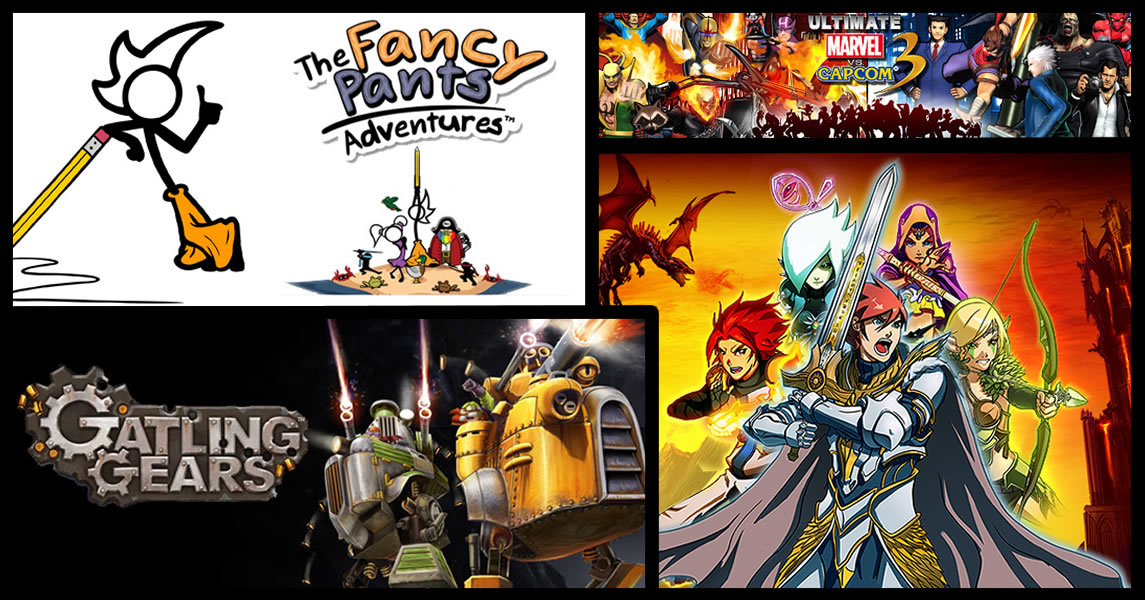 Demorei a fazer este post sobre a atualização da PSN e venho me desculpar, é que a lista de conteúdos é enorme, tem muitos dcls em promoção e organizar todos eles aqui deu um pouco mais de trabalho do que o esperado, tanto que aposto que este é um dos maiores post em tamanho sobre a PSN desde sempre aqui no blog. Um pouco da demora também se deu ao fato deu ter ficado viciado em Marvel vs Capcom 3: Fate of Two Worlds que é muito bom, eu que não sou fã de games de luta me apaixonei por este game. Sim, sei que saiu uma versão mais nova a poucos dias e que esta já esta ultrapassada, mas consegui ela trocando outro game com um amigo e não me arrependo em nenhum momento da troca, pois estou me divertindo muito tentando concluir o modo arcade com todos os 37 personagens disponíveis.
Bom, voltando a PSN, esta semana temos muitos jogos da PSN em promoção, entre eles Might & Magic Clash Of Heroes, Outland, Gatling Gears, Galaga Legions DX, The Fancy Pants Adventures, Section 8: Prejudice, Alien Breed: Impact, Alien Breed 2: Assault, Alien Breed 3: Descent, e outros mais.
Praticamente todos estes games que acabei de citar podem ainda contar com um desconto maior caso seja membro PSN Plus, pois ai o desconto é maior. Somente um game Mini foi disponibilizado gratuitamente esta semana e não esperem por grandes novidades para semana que vem, acho que somente teremos um titulo grande no inicio do próximo mês e quem sabe um extra de presente de natal. Na atualização normal americana e brasileira da PSN nada que se destaque muito no meio dessa enxurrada de conteúdo.
Bom, vamos à lista e a alguns vídeos após o continue lendo.
PS Mini Grátis
* Ninjamurai
Full Game Trials
* Ratchet and Clank: All 4 One
Descontos Exclusivos
* Limbo (US$ 7.34)
* Might & Magic Clash Of Heroes (US$ 7.34)
* Outland (US$ 4.89)
* Gatling Gears (US$ 4.89)
* Galaga Legions DX (US$ 4.89)
* The Fancy Pants Adventures (US$ 4.89)
* Section 8: Prejudice – 50% de desconto (US$ 7.34)
* Section 8: Prejudice – Blitz Pack (US$ 1.46)
* Section 8: Prejudice – Frontier Colonies Map Pack (US$ 1.95)
* Section 8: Prejudice – Overdrive Map Pack (US$ 1.95)
* Cuboid (US$ 3.99)
* Akimi Village (US$ 4.89)
* Dungeon Hunter Alliance (US$ 6.29)
* PlayStation Move Ape Escape (US$ 9.79)
Trailer PlayStation Move Ape Escape
Trailer Gatling Gears
Trailer Galaga Legions DX
Atualização PlayStation Store Americana
PSN Games
* Who Wants To Be A Millionaire (US$ 9.99)
* Learning With The Pooyoos – Episode 2 (US$ 8.99)
* Ratchet & Clank: All 4 One (US$ 59.99)
* Call Of Duty 4: Modern Warfare (US$ 19.99)
Expansões
* White Knight Chronicles II DLC (x137) (various prices)
* Goldeneye 007: Reloaded Pussy Galore (Grátis)
* Ultimate Marvel Vs Capcom 3 – The Evil Twin Pack (US$ 3.99)
* Ultimate Marvel Vs Capcom 3 – The Rising Dead Pack (US$ 3.99)
* Batman Arkham City – Robin Bundle (US$ 6.99)
* Dead Island: Bloodbath Arena (US$ 9.99)
* Disgaea 4 – Adell (US$ 2.99)
* Disgaea 4 – Holt Village Map (US$ 0.99)
* Disgaea 4 – Laharl Kaiser V (US$ 1.99)
* Disgaea 4 – Rozalin (US$ 2.99)
* Rock Band 3
– "Animals" – Nickelback (US$ 1.99)
– "Fuzzy Man (Fuzzy Nation)" – Paul and Storm (US$ 1.99)
– "How You Remind Me" – Nickelback (US$ 1.99)
– "If Today Was Your Last Day" – Nickelback (US$ 1.99)
– "Nemesis" – Arch Enemy (US$ 1.99)
– "Passing Bells" – Amberian Dawn (US$ 1.99)
– "Someday" – Nickelback (US$ 1.99)
– "This Means War" – Nickelback (US$ 1.99)
– "Walk Like A Ghost" – Quartered (US$ 0.99)
– Artist pack (US$ 8.49)
* Rock Band Network
"Pale Sister of Light" – Free Spirit (US$ 1.99)
Updates nos Preços
* Aquarium 1.0 Dynamic Theme (PS3) (Agora por US$ 2.99)
* Aquarium 2.0 Dynamic Theme (PS3) (Agora por US$ 3.49)
* Ar Tonelico Qoga:
– Binary World [2Nd Issue] Elemia Island Vol. 2 (PS3) (Agora por US$ 0.99)
– Binary World [3Rd Issue] Elamia Vol. 3 (PS3) (Agora por US$ 0.99)
– Binary World [4Th Issue] Elemia Island Vol. 4 (PS3) (Agora por US$ 0.99)
– Binary World [5Th Issue] Elemia Island Vol. 5 (PS3) (Agora por US$ 0.99)
– Binary World [Complete Edition] Elemia Island Complete Series (PS3) (Agora por US$ 3.49)
* Disgaea 3:
– Adell Dlc (Agora por US$ 0.99)
– Disgaea 2 Main Character Theme (Agora por US$ 0.49)
– Hanako Dlc (Agora por US$ 0.99)
– Main Character Package Dlc Bundled (Disgaea 3/Disgaea 2)(Agora por US$ 2.49)
– Makai Kingdom Main Character Package Dlc (Agora por US$ 1.99)
– Nekomata Dlc (Agora por US$ 0.49)
– Pram Dlc (Agora por US$ 0.99)
– Pram Theme (Agora por US$ 0.49)
– Rozalin Dlc (Agora por US$ 0.99)
– Taro Dlc (Agora por US$ 0.99)
– Zetta Dlc (Agora por US$ 0.99)
– Absence Of Justice:
– Class World Command Attack (Agora por US$ 1.99)
– Defender Of Earth Custom Theme (Agora por US$ 0.49)
– Defender Of Earth Set (Agora por US$ 2.99)
– Demon & Detective Set (Agora por US$ 1.99)
– Disgaea 2 Sacrebleu Set (Agora por US$ 2.49)
– Gordon (Agora por US$ 0.99)
– Item World Command Attack Mode (Agora por US$ 1.99)
– Jennifer (Agora por US$ 0.99)
– Kogure (Agora por US$ 0.99)
– Kogure Custom Theme (Agora por US$ 0.49)
– Marjoly (Agora por US$ 0.99)
– Mid-Boss (Agora por US$ 0.99)
– Priere Custom Theme (Agora por US$ 0.49)
– Thursday (Agora por US$ 0.49)
– Tink (Agora por US$ 0.99)
– Yukimaru (Agora por US$ 0.99)
– Action Prinny (Agora por US$ 0.99)
– All Star Theme (Agora por US$ 0.49)
– Curtis (Agora por US$ 0.99)
– Dragon (Agora por US$ 0.49)
– Fake Heroes Set (Agora por US$ 1.99)
– Gig (Agora por US$ 0.99)
– Gig Theme (Agora por US$ 0.49)
– Item World Survival Attack (Agora por US$ 1.99)
– Pleinair Theme (Agora por US$ 0.49)
– Prinny Curtis (Agora por US$ 0.99)
– Raspberyl & Sapphire Theme (Agora por US$ 0.49)
– Raspberyl Chap 1-4 (Agora por US$ 5.99)
– Raspberyl Chap.1 (Agora por US$ 1.49)
– Raspberyl Chap.2 (Agora por US$ 1.49)
– Raspberyl Chap.3 (Agora por US$ 1.49)
– Raspberyl Chap.4 (Agora por US$ 1.49)
– Revya (Agora por US$ 0.99)
– Soul Nomad Set (Agora por US$ 1.99)
* Aedis Eclipse: Generation Of Chaos Legacy (PSP) (Agora por US$ 5.99)
* Blade Dancer: Lineage Of Light Umd Legacy (PSP) (Agora por US$ 5.99)
* Cladun X2 (PSP) (Agora por US$ 14.99)
* Cladun: This Is An Rpg! (PSP) (Agora por US$ 9.99)
* Disgaea 2: Dark Hero Days (PSP) (Agora por US$ 14.99)
* Disgaea Infinite Digital (PSP) (Agora por US$ 7.99)
* Disgaea: Afternoon Of Darkness Legacy (PSP) (Agora por US$ 9.99)
* Dragoneer'S Aria Legacy (PSP) (Agora por US$ 7.99)
* Mana Khemia: Student Alliance Legacy (PSP) (Agora por US$ 7.99)
* Phantom Brave: The Hermuda Triangle Digital (PSP) (Agora por US$ 9.99)
* Prinny 2 (PSP) (Agora por US$ 9.99)
* Prinny: Can I Really Be The Hero? (PSP) (Agora por US$ 7.99)
* Z.H.P. (PSP) (Agora por US$ 19.99)
* Worms 2:
– Armageddon Battle Pack (Agora por US$ 2.49)
– Armageddon Forts Pack (Agora por US$ 3.49)
– Armageddon Puzzle Pack (Agora por US$ 3.49)
– Armageddon Retro Pack (Agora por US$ 3.49)
– Armageddon Time Attack (Agora por US$ 3.49)
* Prototype (Agora por US$ 14.99)
* Split Second (Agora por US$ 9.99)
* Alien Breed 2: Assault (PS3) (Agora por US$ 4.99)
* Alien Breed 3: Descent (PS3) (Agora por US$ 4.99)
* Alien Breed: Impact (PS3) (Agora por US$ 4.99)
* Worms 2: Armageddon (PS3) (Agora por US$ 7.49)
* Cuboid (PS3) (Agora por US$ 4.99)
* Kick-Ass (PS3) (Agora por US$ 7.99)
* Worms: Battle Islands (PSP) (Agora por US$ 8.49)
* Half-Minute Hero Digital (PSP) (Agora por US$ 9.99)
* Lunar: Silver Star Harmony (PSP) (Agora por US$ 14.99)
* Valhalla Knights 2: Battle Stance (PSP) (Agora por US$ 9.99)
* Valhalla Knights Legacy (PSP) (Agora por US$ 4.99)
* Ys Seven (PS3) (Agora por US$ 14.99)
* Ys: The Oath In Felghana (PSP) (Agora por US$ 14.99)
* The Baconing (PS3) (Agora por US$ 7.49)
Avatares
* Flower Swarm Avatar (US$ 0.49)
* Flower Tower Avatar (US$ 0.49)
* Flower Tree Avatar (US$ 0.49)
Game Videos
* GT Academy USA Episode 1
* GT Academy USA Episode 2
* GT Academy USA Episode 3
* GT Academy USA Episode 4
* GT Academy USA Episode 5
* Jurassic Park: The Game – Behind The Scenes Trailer
* NBA 2K12: Legends Showcase Teaser Trailer
* Skylanders Spyro's Adventure Trailer
* Kingdoms Of Amalur: Reckoning Destiny & Fate Trailer
* Kingdoms Of Amalur: Reckoning Factions And Fae Trailer
* Need For Speed The Run/The Black Keys
* Syndicate 4-Player Co-Op Trailer Hostile Takeover (Hd)
* Warp Announce Trailer
* House Of The Dead: Overkill Launch Trailer
* Sonic Generations Launch Trailer
* Hitman: Absolution Run For Your Life Full Playthrough Video
* UFC Undisputed 3 Pride Trailer
* WWE '12 – Brock Lesnar Trailer
* Assassin's Creed Revelations No Mercy Trailer
* Rayman Origins Comic-Con Trailer
* Pulse 11/22 Edition
Temas PS3
* Oddworld: Stranger'S Wrath Hd – Dynamic Theme (US$ 2.99)
* Call Of Duty: Modern Warfare 3:
– Hunter Killer Dynamic Theme (US$ 2.99)
– Black Tuesday Theme (US$ 0.99)
– In The Shadows Theme (US$ 0.99)
* The King Of Fighters XIII Custom Theme 1 (US$ 1.99)
* The King Of Fighters XIII Custom Theme 2 (US$ 1.99)
* Castlevania: Harmony Of Despair Theme (US$ 1.99)
* Anne Stokes:
– Bio Skull Dynamic Theme (US$ 2.99)
– Evil Clown Dynamic Theme (US$ 2.99)
– Final Verdict Dynamic Theme (US$ 2.99)
– Hell Rider Dynamic Theme (US$ 2.99)
– Hellfire Dynamic Theme (US$ 2.99)
* Active Beauty – Deep Stretch (US$ 2.99)
* Active Beauty – Crunch Time (US$ 2.99)
* Active Beauty – Bench Press (US$ 2.99)
* Bad Business 3 – Freedom Fighter Jackson Dynamic Theme (US$ 2.99)
* Dynamic Comic Thanksgiving (US$ 2.99)
* Cyber Terran 3020 Dynamic theme 1 (US$ 2.99)
* Cyber Terran 3020 Dynamic theme 2 (US$ 2.99)
PS one Classics
* Final Fantasy V (US$ 9.99)
Bundles
* Flower Game, Soundtrack, Avatar Bundle (US$ 12.49)
Downloadable Games PSP
* NBA 2K12 PSP (US$ 19.99)
* Corpse Party (US$ 19.99)
Bundle PSP
* Open Emotion Studios Triple Pack (US$ 3.99)
PSP minis
* Where Is My Heart? – Minis (US$ 6.99)
* Ikari Warriors Ii: Victory Road – Minis (US$ 2.99)
* Psycho Soldier – Minis (US$ 2.99)
Atualização PlayStation Store Brasil
Jogo para Download
* Ratchet & Clank: All 4 One (R$ 169,99)
Atualizações
* Worms 2: Armageddon (agora R$ 15,99)
* Worms 2: Armageddon Battle Pack (agora R$ 5,49)
* Worms 2: Armageddon Forts Pack (agora R$ 7,49)
* Worms 2: Armageddon Puzzle Pack (agora R$ 7,49)
* Worms 2: Armageddon Retro Pack (agora R$ 7,49)
* Worms 2: Armageddon Time Attack (agora R$ 7,49)
* Limbo – Oferta (agora R$ 21,99)
* Section 8: Prejudice – Oferta (agora R$ 21,99)
* Section 8: Prejudice Blitz Pack – Oferta (agora R$ 4,49)
* Section 8: Prejudice Overdrive Map Pack – Oferta (agora R$ 6,49)
Expansões
* Ultimate Marvel Vs Capcom 3 – The Evil Twin Pack (R$ 8,99)
* Ultimate Marvel Vs Capcom 3 – The Rising Dead Pack (R$ 8,99)
* Gran Turismo 5 Racing Gear Pack (R$ 6,49)
* Gran Turismo 5 Racing Car Pack (R$ 16,99)
* Gran Turismo 5 Course Pack (R$ 10,99)
* Gran Turismo 5 Paint Pack (R$ 4,49)
* Gran Turismo 5 Complete Pack (R$ 24,99)
* Batman Arkham City – Robin Bundle (Public Release) (R$ 14,99)
* White Knight Chronicles II:
– Archduchy Fountain (1) (R$ 6,49)
– Archduchy Fountain (2) (R$ 6,49)
– Archduchy Fountain (3) (R$ 6,49)
– Artifact Plans (Acutus II) (R$ 2,49)
– Artifact Plans (Acutus) (R$ 2,49)
– Artifact Plans (Adolmea II) (R$ 2,49)
– Artifact Plans (Adolmea) (R$ 2,49)
– Artifact Plans (Antiquus II) (R$ 2,49)
– Artifact Plans (Antiquus) (R$ 2,49)
– Artifact Plans (Cornutus II) (R$ 2,49)
– Artifact Plans (Cornutus) (R$ 2,49)
– Artifact Plans (Cucullus II) (R$ 2,49)
– Artifact Plans (Cucullus) (R$ 2,49)
– Artifact Plans (Dinivas II) (R$ 2,49)
– Artifact Plans (Dinivas) (R$ 2,49)
– Artifact Plans (Elementum II) (R$ 2,49)
– Artifact Plans (Elementum) (R$ 2,49)
– Artifact Plans (Fulguris II) (R$ 2,49)
– Artifact Plans (Fulguris) (R$ 2,49)
– Artifact Plans (Larvayne II) (R$ 2,49)
– Artifact Plans (Larvayne) (R$ 2,49)
– Artifact Plans (Spina II) (R$ 2,49)
– Artifact Plans (Spina) (R$ 2,49)
– Artifact Plans (Velamun II) (R$ 2,49)
– Artifact Plans (Velamun) (R$ 2,49)
– Artifact Plans (Wizel II) (R$ 2,49)
– Artifact Plans (Wizel) (R$ 2,49)
– Bamboo Fence (20) (R$ 2,49)
– Bamboo Fence (40) (R$ 3,49)
– Bamboo Fence (60) (R$ 4,49)
– Base Tent (2) (R$ 4,49)
– Base Tent (4) (R$ 4,49)
– Base Tent (6) (R$ 4,49)
– Bench (10) (R$ 2,49)
– Bench (20) (R$ 2,49)
– Bench (30) (R$ 2,49)
– Cherry Tree (10) (R$ 4,49)
– Cherry Tree (20) (R$ 4,49)
– Cherry Tree (30) (R$ 4,49)
– Concierge: Caesar (R$ 2,49)
– Concierge: Cisna (R$ 2,49)
– Concierge: Eldore (R$ 2,49)
– Concierge: Framboise (R$ 2,49)
– Concierge: Grazel (R$ 2,49)
– Concierge: Kara (R$ 2,49)
– Concierge: Leonard (R$ 2,49)
– Concierge: Miu (R$ 2,49)
– Concierge: Rocco (R$ 2,49)
– Concierge: Scardigne (R$ 2,49)
– Concierge: Shapur (R$ 2,49)
– Concierge: Yulie (R$ 2,49)
– Elegant Binding Post (1) (R$ 3,49)
– Elegant Binding Post (2) (R$ 3,49)
– Elegant Binding Post (3) (R$ 3,49)
– Elegant Binding Post (4) (R$ 3,49)
– Elegant Binding Post (5) (R$ 3,49)
– Elegant Cafe (1) (R$ 3,49)
– Elegant Cafe (2) (R$ 3,49)
– Elegant Cafe (3) (R$ 3,49)
– Elegant Cafe (4) (R$ 3,49)
– Elegant Cafe (5) (R$ 3,49)
– Elegant House (1) (R$ 3,49)
– Elegant House (2) (R$ 3,49)
– Elegant House (3) (R$ 3,49)
– Elegant House (4) (R$ 3,49)
– Elegant House (5) (R$ 3,49)
– ELEGANT JEWELER (1) (R$ 3,49)
– ELEGANT JEWELER (2) (R$ 3,49)
– ELEGANT JEWELER (3) (R$ 3,49)
– ELEGANT JEWELER (4) (R$ 3,49)
– ELEGANT JEWELER (5) (R$ 3,49)
– Elegant Market (1) (R$ 3,49)
– Elegant Market (2) (R$ 3,49)
– Elegant Market (3) (R$ 3,49)
– Elegant Market (4) (R$ 3,49)
– Elegant Market (5) (R$ 3,49)
– Elegant Smithy (1) (R$ 3,49)
– Elegant Smithy (2) (R$ 3,49)
– Elegant Smithy (3) (R$ 3,49)
– Elegant Smithy (4) (R$ 3,49)
– Elegant Smithy (5) (R$ 3,49)
– Elegant Vase (20) (R$ 3,49)
– Elegant Vase (40) (R$ 3,49)
– Elegant Vase (60) (R$ 3,49)
– Fallen Tree (2) (R$ 4,49)
– Fallen Tree (4) (R$ 4,49)
– Fallen Tree (6) (R$ 4,49)
– Fern (10) (R$ 4,49)
– Fern (20) (R$ 4,49)
– Fern (30) (R$ 4,49)
– Gold Color Set (R$ 2,49)
– Guild License (R$ 6,49)
– Horse Barricade (20) (R$ 3,49)
– Horse Barricade (40) (R$ 3,49)
– Horse Barricade (60) (R$ 3,49)
– MILLENNIUM TREE (1) (R$ 6,49)
– Papitaur Tent (2) (R$ 6,49)
– Papitaur Tent (4) (R$ 6,49)
– Papitaur Tent (6) (R$ 6,49)
– Pine Tree (10) (R$ 4,49)
– Pine Tree (20) (R$ 4,49)
– Pine Tree (30) (R$ 4,49)
– Prism Ticket (R$ 2,49)
– Prism Ticket X10 (R$ 18,99)
– Prism Ticket X5 (R$ 9,99)
– Sandbag (20) (R$ 3,49)
– Sandbag (40) (R$ 3,49)
– Sandbag (60) (R$ 3,49)
– Spring Spirit Tree (1) (R$ 6,49)
– Summer Spirit Tree (1) (R$ 6,49)
– Token Storage Ticket (R$ 6,49)
– Tough Fence (20) (R$ 2,49)
– Tough Fence (40) (R$ 3,49)
– Tough Fence (60) (R$ 4,49)
– Turret (1) (R$ 6,49)
– Turret (2) (R$ 6,49)
– Turret (3) (R$ 6,49)
– Vivid Aqua Color Set (R$ 2,49)
– Vivid Blue Color Set (R$ 2,49)
– Vivid Green Color Set (R$ 2,49)
– Vivid Leaf Color Set (R$ 2,49)
– Vivid Orange Color Set (R$ 2,49)
– Vivid Pink Color Set (R$ 2,49)
– Vivid Purple Color Set (R$ 2,49)
– Vivid Red Color Set (R$ 2,49)
– Wagon (1) (R$ 4,49)
– Wagon (2) (R$ 4,49)
– Wagon (3) (R$ 4,49)
– Waiting Area (1) (R$ 6,49)
– Waiting Area (2) (R$ 6,49)
– Waiting Area (3) (R$ 6,49)
– White Flower (10) (R$ 6,49)
– White Flower (20) (R$ 6,49)
– White Flower (30) (R$ 6,49)
– Wisteria Trellis (1) (R$ 6,49)
– Wisteria Trellis (2) (R$ 6,49)
– Wisteria Trellis (3) (R$ 6,49)
Conjunto
* Flower Game, Soundtrack, Avatar Bundle (R$ 25,99)
Avatares
* Flower Swarm Avatar (R$ 1,49)
* Flower Tower Avatar (R$ 1,49)
* Flower Tree Avatar (R$ 1,49)
Vídeos de Jogos
* GT Academy USA Episode 3
* GT Academy USA Episode 4
* GT Academy USA Episode 2
* GT Academy USA Episode 1
* GT Academy USA Episode 5
* Sonic Generations Launch Trailer
* UFC Undisputed 3 Pride Trailer
* WWE '12 – Brock Lesnar Trailer
* Assassin's Creed Revelations No Mercy Trailer
* Rayman Origins Comic-Con Trailer
Temas Pagos para PS3
* Anne Stokes – Bio Skull Dynamic Theme (R$ 6,49)
* Anne Stokes – Evil Clown Dynamic Theme (R$ 6,49)
* Anne Stokes – Final Verdict Dynamic Theme (R$ 6,49)
* Anne Stokes – Hell Rider Dynamic Theme (R$ 6,49)
* Anne Stokes – Hellfire Dynamic Theme (R$ 6,49)
* Active Beauty – Deep Stretch (R$ 6,49)
* Active Beauty – Crunch Time (R$ 6,49)
* Active Beauty – Bench Press (R$ 6,49)
* Bad Business 3 – Freedom Fighter Jackson Dynamic Theme (R$ 6,49)
* Dynamic Comic Thanksgiving (R$ 6,49)
* Cyber Terran 3020 Dynamic theme 1 (R$ 6,49)
* Cyber Terran 3020 Dynamic theme 2 (R$ 6,49)